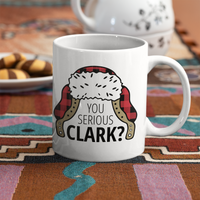 You Serious Clark? (11oz Mug)
Big vacation? Pool for the whole family? More Christmas lights than every Home Depot and Lowe's on the entire planet? Are you serious, Clark?

ABOUT THE MUG
• High Gloss + Premium White Finish
• ORCA Coating
• Dishwasher and Microwave Safe
• 3.7″H x 3.7″W x 3.2″D
• 10.2″ Circumference
Please note that all products are printed on demand, except overstocks & seconds. For more information on production and shipping times please read our FAQs.