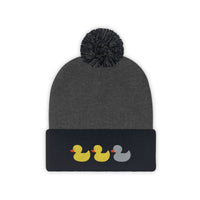 The Original Duck Duck Gray Duck (Beanie)
In most parts of the world kids play Duck Duck Goose. In Minnesota, though, they switch it up to Duck Duck Gray Duck. There's theories as to why, but we don't need to go into that here.

Please note that all products are printed on demand, except overstocks & seconds. For more information on production and shipping times please read our FAQs.