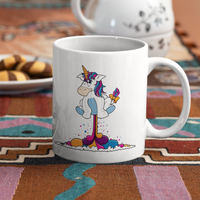 Cleared For Take Off 11oz Mug
In life, the take off isn't the difficult part. #GoRogue with this unicorn design from Rogue Panda Apparel Company.

ABOUT THE MUG
This high quality 11oz. ceramic black mug has a premium hard coat that provides crisp and vibrant color reproduction sure to last for years. Perfect for all hot & cold beverages. 
• High Gloss + Premium White Finish
• ORCA Coating
• Dishwasher and Microwave Safe
• 3.8″H x 3.8″W x 3.3″D
• 10.3″ Circumference
Please note that all products are printed on demand, except overstocks & seconds. For more information on production and shipping times please read our FAQs.