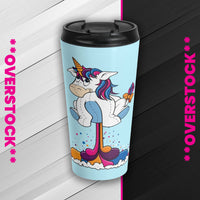 **OVERSTOCK** Cleared For Take Off Travel Mug
In life, the take off isn't the difficult part. #GoRogue with this unicorn design from Rogue Panda Apparel Company.
**THIS IS AN OVERSTOCK PRODUCT AND IS NOT ELIGIBLE FOR SALES/DISCOUNTS. Quantities are limited. Sales on all overstocks and seconds are AS-IS and no returns will be accepted for any reason.**
Please note that all products are printed on demand, except overstocks & seconds. For more information on production and shipping times please read our FAQs.