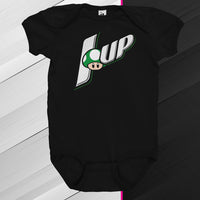 Level up and #GoRogue with this 1-Up design from Rogue Panda Apparel Company.
Perfectly crafted bodysuit for infants. Favored for its comfortable, cozy yet durable design.
Benefits
Easy care and sensible bodysuit has guaranteed durability with it's reinforced three snap closure. Gives you peace of mind. Will stay on a moving playful infant on the go
Crafted with the finest combed ringspun cotton gentle on infants smooth skin
For environmental and human friendly reason, this product is only made when you order it. Please allow about 7 business days for it to be made and then we will send you tracking information as soon as it's in the mail. For more information regarding production & shipping, please see our FAQs page.
Please note that all products are printed on demand, except overstocks & seconds. For more information on production and shipping times please read our FAQs.